Justin "The Highlight" Gaethje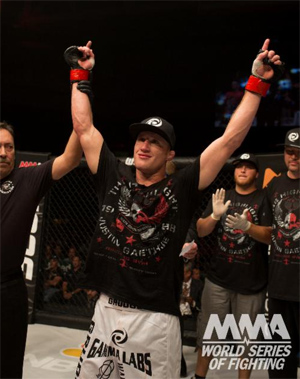 Justin Gaethje: Current WSOF Lightweight World Champion
Nick Name: "The Highlight"
Birth Date: November 14, 1988
Place of Birth: Tucson, AZ
Professional Record: 13-0
Twitter @Justin_Gaethje
Key Victories: Drew Fickett, Gasias "JZ" Cavalcante, Brian Cobb, Dan Lauzon, Melvin Guillard
Justin "The Highlight" Gaethje brings a prominent winning attitude to his Grudge Training Center Team every day.
Gaethje started wrestling at 4 years old, and competed all 4 years in high school winning two state titles.  Gaethje was honored when he was awarded with the Outstanding Wrestler for the State of Arizona tournament during his junior year.  The high level of success provided an opportunity for a scholarship to the University of Northern Colorado (UNC).  Gaethje qualified for the Division 1 NCAA tournament three times and became the school's first Division 1 All-American in over 60 years.
Justin's passion and work ethic originates from his upbringing in Safford, Arizona.  His family has a history of copper mining, starting from his grandfather, to father, and now his twin brother.  Justin is very proud of where he comes from, and is extremely close to his family.
During his sophomore year at UNC he began studying Mixed Martial Arts, achieving a 7-0 amateur record.  After graduating from UNC, he found guidance in mentor/coach Trevor Wittman, owner of Grudge Training Center.  "The Highlight" was born and his character exemplified the values of hard work, loyalty, and integrity.
Justin's professional career has started with an explosion.  Justin has a perfect 13-0 record with 11 wins by knockout.  This pace has him ranked with MMA's greatest fighters and champions such Chuck Liddell, Dan Henderson, Johny Hendricks, Mauricio "Shogun" Ruo, Anderson Silva, and Jose Aldo.
Gaethje cherishes every fight and will not be outworked by his opponent.  Gaethje's passion and energy in the cage have produced exciting, high paced fights.  It's just a matter of time before The Highlight is a common name to the MMA world.
Justin "The Highlight" Gaethje – Smash Video
Check out the "Revolution MMA Jersey" below, available in red or blue.